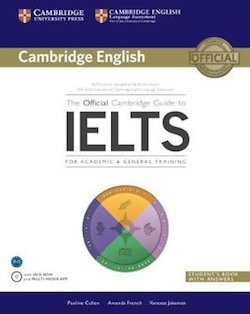 Our experienced teachers will use this comprehensive course to prepare you for success in the IELTS test. You will learn IELTS strategies, as well as build your vocabulary, grammar and understanding of natural English phrases.
This course is a deep, thorough guide to the IELTS test. Each section focuses on one part of the test, including both practice exercises and a variety of useful tips.
Listening 

following a conversation;
listening for actions or directions; and
following a lecture or talk. 

Reading 

using strategies such as skimming to understand main ideas;
locating and matching information; and
following arguments in a text.

Writing

describing charts and graphs;
expressing your ideas clearly; and
linking your ideas together.

Speaking

using smooth intonation;
agreeing and disagreeing; and
organizing your thoughts.
You can work through the whole textbook from start to finish, or you can just focus on one aspect of the test. Please discuss your study plan with your teacher. Our expert teachers will guide you to the best approach.
If you would like advice on which teachers are most suitable for your learning style or most experienced with IELTS, please email support@theenglishfarm.com.