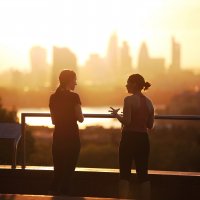 For our general English course, we use a series called "Speakout". We offer three levels from intermediate to advanced. Each book covers a wide range of important topics and all language skills: reading, writing, listening and speaking.
Each book includes a wide variety of conversation topics, insights into English culture, language banks of vocabulary or grammar, and tips and tricks to becoming a more fluent speaker.
Contact one of your teachers at The English Farm for a trial lesson. Use this guide to find the right level based on your English test results. 
| TEXTBOOK LEVEL | TOEIC | TOEFL IBT | IELTS |
| --- | --- | --- | --- |
|   INTERMEDIATE | 400 - 600 | 40 - 65 |  3.5 - 5.5 |
|   UPPER INTERMEDIATE | 600 - 800 | 65 - 95 | 5.5 - 7.0 |
|   ADVANCED | 800+ | 95+ | 7.0+ |